Angle Exhibits will be present at IDS. It is the world's leading trade fair for the dental community. Ensuring sustainable success as a platform for innovation and market trends. It will be held from 12 to 16 March 2019. It will showcase all the latest developments in the sector at the Cologne trade fair.
Once again, Angle Exhibits is present at this event as assemblers of different stands.
In KoelnMesse we have set up the stand that we show you. It has been a stand designed by Angle Exhibits, once again in continuous contact with the client until physically embodying the idea they had for this exhibition. We have carried out the entire assembly process: carpentry, electricity, graphics, providing rental furniture, as well as the necessary formalities with KoelnMesse.
The fact that we take care of all the elements of the stand, will allow our customers to have a single supplier or as few as possible to organize their event. This will make the development of the event easier.
The design and construction of the stands has been done in our silk located in Barcelona. The final construction has been developed directly in the same fairground where it will be exhibited. Once the event is over, we will dismantle and recycle as many materials as possible.
Once the event is over, we will proceed to dismantle the stand, recovering the highest possible percentage of it.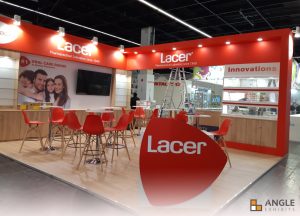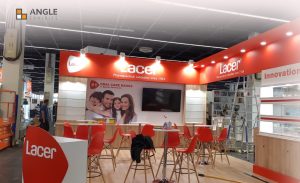 Angle Exhibits are specialists in the design, construction and assembly of stands for fairs, exhibitions, congresses, conventions, exhibitions … of various sectors. We design and develop stands for the whole of Europe, focusing on fairs in Cologne, Barcelona, Madrid, Hannover, Milan…
If you would like to see our latest work, please go to the current affairs section of our website. In this section you will be able to see what we are capable of doing in Angle Exhibits. Being able to make any kind of order no matter how difficult it may seem.