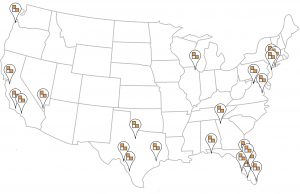 Stand, Retail and Exhibitions in EUA. In 2012 Angle Exhibits initiated their US venture. Angle Architecture LLC was created to assist European clients in their retail needs in the US, and also to assist American brands wanting to work in the European Market.
Since then, a variety of opportunities have been put forward as exhibits for our clients.
We are official producers for America of the Tous jewerly commercial spaces
Web developed and positioned by PosicionandoT.