Angle exhibits offers various types of screens to protect your business from the Covid-19. The presence of the protection screens allows the compliance with the established safety standards. At the same time a physical barrier is imposed between workers and customers. This will prevent the spread of the virus.
We have three different types of screens to adapt to different needs. The first type is the smooth methacrylate screen. The next type is the methacrylate screen with logo, this type allows you to promote your business while protecting it. The last type is the methacrylate screen with logo and leds. This offers protection while promoting your business, with leds that will make your potential customers notice your logo.
Characteristics of the Covid-19 screens:
All are made of high quality methacrylate. Made up of panels 200 cm high and 60 cm wide. Being able to join different ones to create the necessary width. The screens are easy to install and operate. Allowing them to be used at various times and in different places within your business. In addition, it stands out for its easy cleaning and disinfection. It can be done with a solution of 20 ml of bleach in one litre of water.. Being ideal for hairdressers, restaurants, jewelry stores, shops, static centers, supermarkets, shops, clinics …
In the following pictures you can see the three types of covid-19 screens and their quality.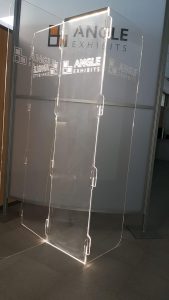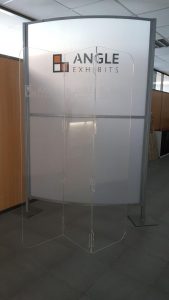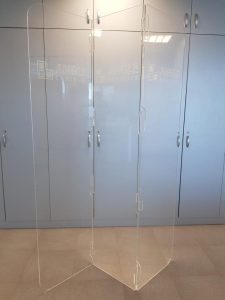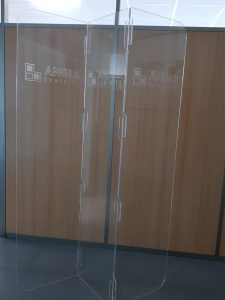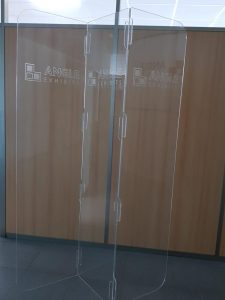 If you need protection screens against covid-19 do not hesitate to contact us. We will inform you without obligation. Contact us in the contact section, by email (info@angle-exhibits.com/ comercial@angle-exhibits.com) or by phone, +34 93 630 74 99.
We offer the business protection screens for all of Spain, from Barcelona. In cities like Granda, Seville, Madrid, Bilbao, Valencia, Tarragona, Lleida, Zaragoza, Girona… Follow us in Instagram and Youtube to know our last works and assemblies, in them you will be able to observe the quality of our services.
Web design developed by PosicionandoT.