In the last month we have developed the elements to create a unique and personalized showcase for the Vans clothing and sneakers brand. In this work we have created various elements to make a different and striking assembly.
The brand has created in collaboration with the MoMA (Museum of Modern Art) a special collection that celebrates the museum's collection and the works of various important artists. The collection has emerged from the shared passion of the two organizations for inspiring expression from around the world. The collection will display works by the following artists: Salvador Dali, Vasily Kandinsky, Claude Monet, Edvard Munch, Jackson Pollock, Lybov Popova and Faith Ringgold.
Showcase developed by Angle Exhibits
The display developed by our company is dedicated to the artist Salvador Dalí. This artist inspired his works in the subconscious, dreams and imagination. Creating works that intertwine the invented with reality. The exhibitor shows the work 'The Persistence of Memory', developed in 1931 by Salvador Dalí, in sneakers and sweatshirts.
The exhibitor has been developed with a tailor-made furniture, designed for the occasion. In the following images you can see the retail developed.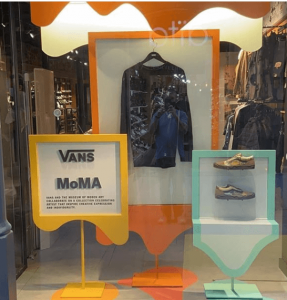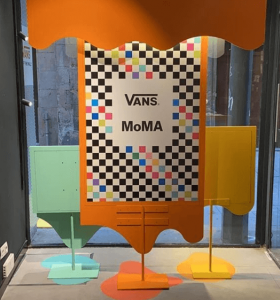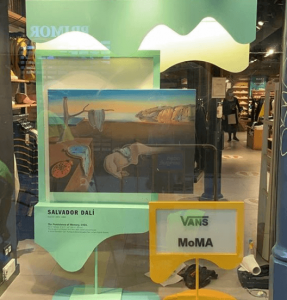 As you can see in the images, the shop window has been developed in two sections. To be able to occupy the entire shop window of the Barcelona. The first section presents the information of the exclusive collection developed and the sweatshirt and shoes created. The poster on the back shows the advertising of the collection for potential customers who are inside the shop. The second section shows the image of Salvador Dalí's painting that inspired the collection and another poster with the names of the two organisations.
Angle Exhibits has extensive experience in the design and construction of customised furniture, retail and stands. For all types of brands in cities throughout Spain and Europe. Such as Barcelona, Madrid, Bilbao, Paris, Berlin, Frankfurt, Milan… This experience allows us to develop unique and personalised elements for each client. Developing them in continuous contact with them to achieve the product that best suits their needs.
Contact us, without obligation, to find out more about our services. In our Instagram and Facebook you can follow our latest work.
Web design developed by PosicionandoT.