During the month of September we developed the assembly of a new retail project customized for one of our customers. To develop a sales corner inside a hardware store. Getting to attract as many customers as possible to your brand. The work is part of a larger retail project customized for this brand for various hardware stores.
In the following images you can see the assembly developed on this occasion. Observing the quality of our assemblies.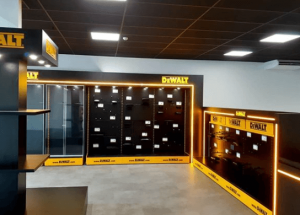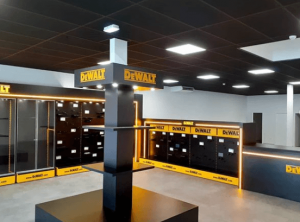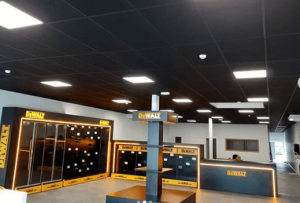 On this occasion we have made a customised furniture for the hardware store where it was to be installed. Developing the retail in the corporate colours of the company, black and yellow. To develop the furniture we have used all kinds of materials. As wood, metal, posters, leds, vinyl, glass, DM … Managing to adapt to customer needs and the place of presentation.
Specialists in retail, furniture and stands
Angle Exhibits specialises in the construction of customised commercial and retail furniture for businesses, companies, trade fairs, points of sale… such as hardware stores, shopping centres, restaurants… and we manage to develop furniture that adapts to the needs of each client. Showing the best image of your company. To attract the attention of potential customers.
Thanks to our years of experience in the design and construction of stands we manage to create unique and striking stands, furniture and retail. Our team of designers, together with our customers, will design the stand, furniture or retail that best suits each brand, product or company. Throughout our experience we have developed customised furniture and stands for all types of fairs, conferences, exhibitions, businesses, companies… in cities throughout Spain and Europe. Like Barcelona, Madrid, Berlin, Milan, Paris, Frankfurt, Valencia, Zaragoza, Bilbao…
If you need a stand, furniture or retail that meets your needs and makes the difference with your competition, do not hesitate to contact us, we will attend you without obligation. Visit our Instagram and Facebook to follow our latest works.
Web design developed by PosicionandoT.