Valmont Barcelona Bridal Fashion Week has changed its dates from June 8 to 14, 2020, due to the current health situation. In this professional show, the events of Barcelona Bridal Bight, Elle international Bridal Awards and BWS Barcelona Wedding Summit will be held. During the Bridal Fashion Week there will be between 9 and 12 different fashion shows and the Professional Trade Fair will be held between 12 and 14 June.
Angle Exhibits offers our services of design and assembly of stands for Valmont Barcelona Bridal Fashion Week. Our years of experience allow us to offer a professional and integral service to our clients.
We develop spectacular stands according to the guidelines and wishes of our clients. Taking care of the furniture, decoration, glassware, metalwork, lighting, sound, vinyl … With all kinds of materials such as glass, aluminum, glass, methacrylate, DM, wood, LEDs …
We developed the stand design at our Barcelona headquarters, thanks to our team of designers. In continuous contact with customers to create their dream stand. The next step, once the design has been accepted, is the manufacturing of the stand. When the stand is finished, we transport it to the place where it will be placed. And there we carry out the final assembly of the stand. At the end of the event, we dismantle and recycle the stand.
Experience of Angle Exhibits:
Our experience in the stand assembly sector makes us aware of the importance of showing your best image at fairs, congresses, exhibitions, trade shows… For this reason, we develop stands that impress your audience. Attracting a greater number of potential customers.
In these years of experience we have participated in fairs like MWC, FITUR, ExpoFranquicia, Fashion Week, metalmadrid, Intergift, It's elettrica, ISC, Cosmetica, Automechanika, IFA, Piscine global europe, Smart City, Hostelco & alimentaria, Expohogar, Meeting point, IBTM World… Held in cities like Madrid, Milan, Lyon, Barcelona, Frankfurt, Paris, Hannover, Berlin, London…
Also, we make retail and commercial furniture to measure for all types of businesses. Creating functional but striking and innovative projects. That will make an impact on your customers, getting them to be loyal to your brand.
Below, we show some images of stands developed for past fairs.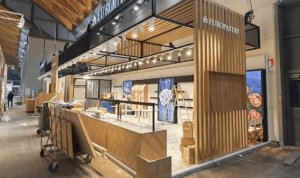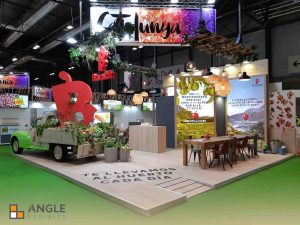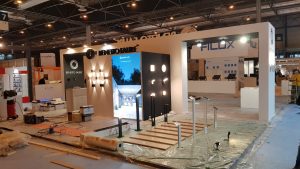 Contact with our company, we will attend you without any commitment and we will offer you a budget adapted to your needs. Follow us on Instagram, where you can see our work and assemblies.
Web designed by PosicionandoT, specialists in design and web positioning.