In Angle Exhibits we are working 100% on stands for various fairs to be held in the coming months in the cities of Barcelona, Madrid, London and Berlin.
We are specialists in the design, assembly and disassembly of stands. We carry out the entire construction process. We do all the elements of the stand, from the carpentry, furniture, decoration, lighting, sound … With all kinds of materials, such as wood, DM, melamine, formica, paint, metal, methacrylate … Or any other material that the client needs.
Thanks to our experience, we can offer a comprehensive service to all our customers. Carrying out the whole process of construction in direct and continuous contact with the client. Adapting to all customer needs, to build your dream stand.
A spectacular stand, unique and attracting the attention of those attending the event, will allow you to attract a greater number of potential customers to your booth and increase sales of your brand, company, service or products. This effect makes them ideal for all types of business events. Such as fairs, trade shows, exhibitions, shows, congresses… Stands are the perfect way to present information about your company in a different and appealing way.
We develop stands with the latest technology so that potential customers can have an interactive experience with your products. Improving the experience they have during their stay at the stand.
We can take care of any kind of project no matter how difficult it may seem, at double height, with different shapes, all kinds of colours, signs, vinyls…
Next, we enclose some images of our last works so that they observe the quality of the stands.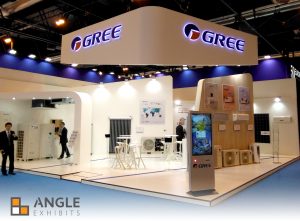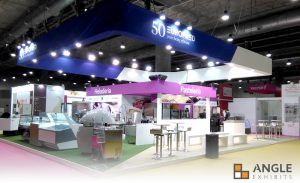 If you would like more information and a personalised quotation, do not hesitate to contact our company without any kind of commitment. In order to observe our last works go to the section of projects.
Cities where Angle exhibits has demonstrate his expertise as International Stand Builder:  Barcelona ; Milan ; Madrid ; Paris ; Frankfurt ; Amsterdam ; Bologna ; Cologne ; Hannover ; London ; Düsseldorf ; Berlin ; Munich ; Moscow ; Nuremberg ; Bilbao ; Geneva ; Verona ; Brussels ; Rome ; Rimini ; Stuttgart ; Montecarlo ; Cannes ; Lisboa ; Valencia ;
We have been present at important trade fairs such as MWC, ISE, ARCO, SIMA, Smart City, IBTM, SIL, CPHI, Construmat. Barcelona Meating Point, ECO living Iberia, Saló Gourmets, Infarma, Fruit Attraction, Còmic, Manga, Cosmobeauty, BforPlante, eShow, Hostelco & Alimentaria, Nàutic, BIEMH, Bedigital, URBE, Eurobrico, Aratur, Smopyc, Eno fórum,
Contact our company without obligation to receive a quotation adapted to the needs of the stand. Exhibition Stands Design and Booth Construction Company in France, Germany, France, Italy and Spain. Europe
You can request a quote here.