This stand for  UIC  – Universidad Internacional de Cataluña, is the result of the design made by Angle Exhibits for the Salo de l'ensenyament 2017. Build and install also by Angle Exhibits in Barcelona.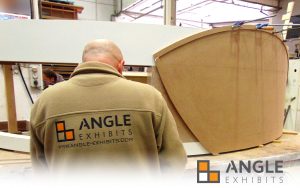 Our Barcelona based logistics teams will see to it that your exhibition stand is packed and shipped from our factory in San Diego to any venue in the Barcelona well within the stipulated timelines. We can also safely store your exhibition stand at our strategically located warehouses in the Barcelona ready for future shows.
You can also customized exhibition stand from us in Salo de l'ensenyament 2017, you just need to choose from our variety of stand designs of ready available exhibition stands or order custom designs and we will manufacture the stand and print the graphics.