Angle Exhibits is working in retail for DeWalt tools brand products. We are building new custom furniture for the Leroy Merlin stores in France.
The custom furniture is made from painted wood and metal. Creating spectacular furniture, unique and tailored to customer needs.
The project of the furniture to measure has been carried out in direct and continuous contact with the client. Subsequently, it has been built in our facilities in Barcelona. Afterwards, we carried out the assembly in the Leroy Merlin stores in France. And finally, once the campaign is over, we will dismantle and recycle the material used.
The construction of tailor-made or retail furniture allows us to attract the attention of potential clients present in the shopping centre. With the furniture designed for your brand, you will get these potential customers closer to your brand and product. Increasing the sales of the same.
This type of retail can be used by all types of companies, shops, brands … Getting a piece of furniture that will in itself be an advertising campaign. And it will make the store itself or the place of exhibition a claim to return or fidelize them to the brand.
Our experience in the sector of the construction of stands and commercial furniture to measure allows us to take charge of any project that the client wishes no matter how difficult it may seem.
We can use any type of material to create custom-made furniture. Such as wood, DM, metal, paint, melamine, formica, methacrylate… Taking charge of sound, lighting, technology…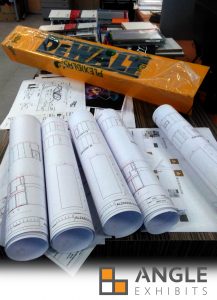 Contact Angle Exhibits:
Our highly creative team of designers based in the Europe will generate awesome designs for your exhibition stand that meets the stringent exhibition stand construction standards of the Europe without compromising on the aesthetics.
We have a wide range of furniture, flooring materials, wall coverings, lights and audio visual, interactive 4k equipment that you can rent anywhere in Europe.
We provide services to the most important fairs such as Fira Barcelona,CCIB – Centre de Convencions Internacional de Barcelona,Palau Firal i de Congressos de Tarragona ,Fira de Girona, Fira de Lleida, Fira de Reus, Llotja de Lleida Palacio de Congresos, Fira Terrassa, Fira de Cornellà, La Farga, Fira d'Igualada, among others.
Cities where Angle exhibits has demonstrate his expertise as International Stand Builder:  Barcelona ; Milan ; Madrid ; Paris ; Frankfurt ; Amsterdam ; Bologna ; Cologne ; Hannover ; London ; Düsseldorf ; Berlin ; Munich ; Moscow ; Nuremberg ; Bilbao ; Geneva ; Verona ; Brussels ; Rome ; Rimini ; Stuttgart ; Montecarlo ; Cannes ; Lisboa ; Valencia ;
We have been present at important trade fairs such as MWC, ISE, ARCO, SIMA, Smart City, IBTM, SIL, CPHI, Construmat. Barcelona Meating Point, ECO living Iberia, Saló Gourmets, Infarma, Fruit Attraction, Còmic, Manga, Cosmobeauty, BforPlante, eShow, Hostelco & Alimentaria, Nàutic, BIEMH, Bedigital, URBE, Eurobrico, Aratur, Smopyc, Eno fórum,
Contact our company without obligation to receive a quotation adapted to the needs of the stand. Exhibition Stands Design and Booth Construction Company in France, Germany, France, Italy and Spain. Europe. Toyota Stand, Automobile 2017
You can request a quote here.