Angle Exhibits will once again be present at the various fairs and shows to be held in March in Barcelona. We will be present at the following fairs:
Saló de l'Ensenyament: will be held between 18 and 22 March at the Fira Barcelona Montjuïc exhibition centre.
Futura: show held between 20th and 21st March at the Montjuïc exhibition centre.
B-Travel: fair held between 27th and 29th March at Fira Barcelona's Montjuïc exhibition centre.
Cosmo Beauty Barcelona: to be held between 28th and 30th March at Fira de Barcelona's Gran Vía venue.
The Saló de l'Ensenyament is the main event in the educational and occupational field in Catalonia. The show presents the range of studies in Catalonia.
Futura is the ideal opportunity to find out about the various options for studying for Bachelor's, Master's and Postgraduate degrees.
The B-Travel fair is the largest travel event in southern Europe. It presents all sectors of tourism, featuring international destinations, travel agencies, national destinations, gastronomy, cruises, transport companies…
Cosmo Beauty Barcelona is the reference event in Spain for hairdressing, nails, make-up, beauty, aesthetic medicine and image consultancy.
We are preparing several stands for these fairs in March. In our headquarters in Sant Boi (Barcelona) we develop the design, preparation and assembly of the various parts of the stands. The final assembly process of the stand is developed at the fair.
Creating a spectacular and differentiating stand from its competition. Getting a greater number of potential customers to approach your stand. This will allow them to get to know your company or brand directly, turning them into real customers.
Below, we show images of stands built for these fairs in previous years.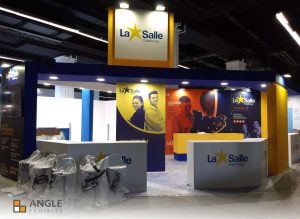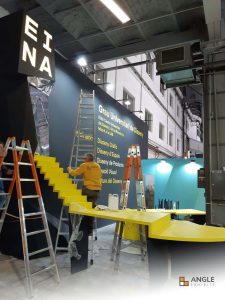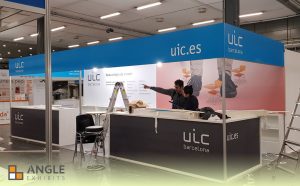 If you would like to receive a personalized quote for your needs and type of stand, please contact us in the contact section.
Angle exhibits thanks to our extensive experience in the sector, achieved through our participation in fairs such as MWC, Smart City, Fitur, ITB, WTC… We can offer a comprehensive service to customers throughout Europe.