From Angle Exhibits we present our latest project in the current post. On this occasion our company has travelled to Mallorca to install the retail developed for a hardware brand. As on other occasions, we have installed the customised retail for the brand in a do-it-yourself centre.
Thanks to having this type of furniture the brand manages to attract the attention of potential customers who visit the DIY shop. The design has been developed by our team of designers in continuous contact with the client. As in the other occasions we have worked for this brand. To get the commercial furniture that the client wants and to adapt the design to the place of presentation. In order to achieve an adequate use of the space.
Last work developed: DeWalt and Stanley
In this project we have developed the installation in two hardware stores in Mallorca, in the same trip. Continuing with our relationship with the client, for whom we have already developed various designs and construction of retail for various hardware stores in Spain and France. In the following images you can see the work developed on this occasion.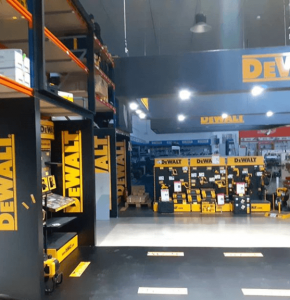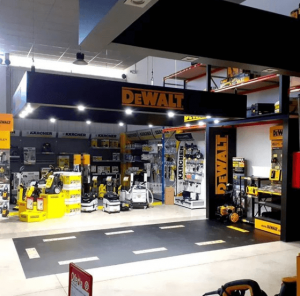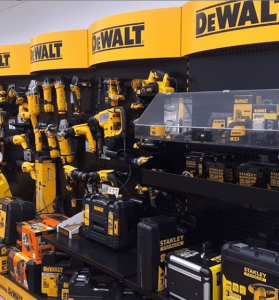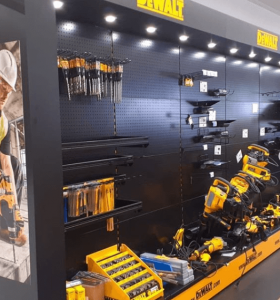 In the pictures you can see that we have used different types of materials for the development of the commercial furniture. Such as MDF, metal, leds, spotlights, wood, vinyl… To develop a design based on the company's colours and corporate logos. As you can see in the images, an eye-catching space was achieved that manages to attract the attention of the potential customers present in the shop.
Our experience as designers and builders of stands for fairs, congresses, exhibitions, trade shows… In cities throughout Spain and Europe such as Barcelona, Madrid, Paris, Hannover, Berlin, Milan… allows us to offer a comprehensive and professional service to our customers. If you need a stand or commercial furniture made to measure for your company, do not hesitate to contact us without obligation. We will inform you about our rates and services. Visit our Facebook and Instagram to see our latest works.
SEO strategy designed by PosicionandoT.