Expo Exhibition Stands in IBTM Word Barcelona 2017.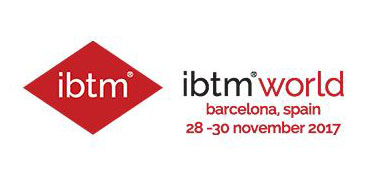 IBTM Word Barcelona 2017
Countdown for the Ibtm World 2017 Barcelona
Dates: 28 Nov 2017 – 30 Nov 2017
Business Travel Industry Show, Congresses and Incentives for Professionals
Barcelona hosts a new edition of the IBTM, International Fair of Incentives, Business Travel and Meetings.
This event, dedicated to business travel professionals, is attended by exhibitors from all over the world, including agencies, hotel chains, tourist offices and destinations. The organization of the IBTM has made a firm commitment to Barcelona, thanks to its magnificent trade fair facilities, the city's capacity to promote major international events and its tourist attraction.
In this fair we will present an offer of 3,000 companies from 150 countries with the participation of travel agencies, tour operators, congress and convention centers, hotel chains, service companies and organizers of international events.
Ibtm World Barcelona will have an innovation space where the best technological solutions and services for events will be shown. Also noteworthy are the networking sessions and its training programme, which includes more than 100 seminars and conferences to analyse new trends in the sector with the presence of top-level experts.
Website: www.ibtmworld.com/
We provide services to the most important fairs such as Fira Barcelona,CCIB – Centre de Convencions Internacional de Barcelona,Palau Firal i de Congressos de Tarragona ,Fira de Girona, Fira de Lleida, Fira de Reus, Llotja de Lleida Palacio de Congresos, Fira Terrassa, Fira de Cornellà, La Farga, Fira d'Igualada, among others.
Cities where Angle exhibits has demonstrate his expertise as International Stand Builder:  ; Barcelona ; Milan ; Madrid ; Paris ; Frankfurt ; Amsterdam ; Bologna ; Cologne ; Hannover ; London ; Düsseldorf ; Berlin ; Munich ; Moscow ; Nuremberg ; Bilbao ; Geneva ; Verona ; Brussels ; Rome ; Rimini ; Stuttgart ; Montecarlo ; Cannes ; Lisboa ; Valencia ;
We have been present at important trade fairs such as MWC, ISE, ARCO, SIMA, Smart City, IBTM, SIL, CPHI, Construmat. Barcelona Meating Point, ECO living Iberia, Saló Gourmets, Infarma, Fruit Attraction, Còmic, Manga, Cosmobeauty, BforPlante, eShow, Hostelco & Alimentaria, Nàutic, BIEMH, Bedigital, URBE, Eurobrico, Aratur, Smopyc, Eno fórum,
Contact our company  without obligation to receive a quotation adapted to the needs of the stand. Exhibition Stands Design and Booth Construction Company in France, Germany, France, Italy and Spain. Europe. IBTM Word Barcelona 2017
You can request a quote here.