Angle Exhibits estaremos presentes en la feria Fruit Attraction 2019. Fruit Attraction se celebrará en el recinto ferial Ifema de Madrid. Participando en el montaje de stands para este gran evento.
La feria tendrá lugar entre los días 22 al 24 de octubre. Es el punto de encuentro comercial de todo el mundo para la comunidad hortofrutícola profesional que en este año 2019 reunirá a 1.800 empresas expositoras directas y 90.000 profesionales de 130 países. Comercialización, innovación, calidad y conocimiento son las premisas de esta nueva edición del certamen
El proceso de fabricación de nuestros stands se inició en nuestras instalaciones situadas en Barcelona. Donde se desarrollo el diseño y fabricación de los stands. A continuación, realizamos en las propias instalaciones de Ifema el montaje final en el lugar de exposición. Finalizaremos el proceso de montaje del stand, con su desmontaje y reciclaje del material utilizado para el stand.
El diseño como los acabados se han decidido en continuo contacto con los clientes para finalmente obtener los resultados deseados. Este factor es uno de nuestros principales objetivos, lograr solucionar cualquier necesidad que tenga el cliente.
Gracias a los diseños espectacular y llamativos, conseguiremos atraer a un mayor número de asistentes hacia su stand. Lo que repercutirá en atraer aun mayor número de potenciales clientes.
Trabajamos con todo tipo de materiales, como DM, madera, vidrio, metal… Y nos encargamos de todos lo elementos necesarios para que sea un éxito. Como mobiliario, iluminación, sonido, rótulos, vinilos…
Adjuntamos algunas imágenes para que observe los diversos diseños de los stands diseñados por nuestra empresa.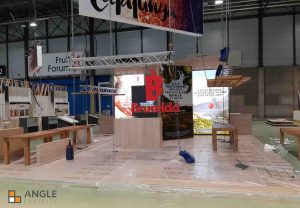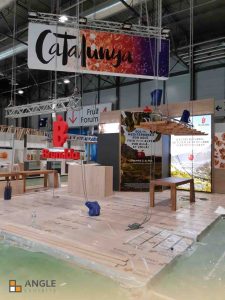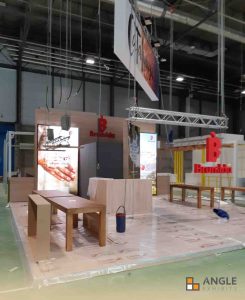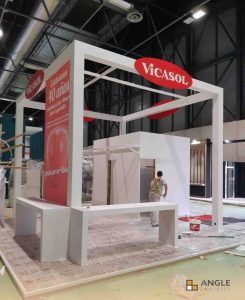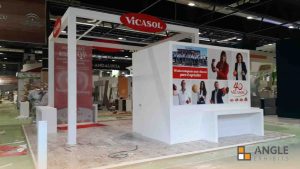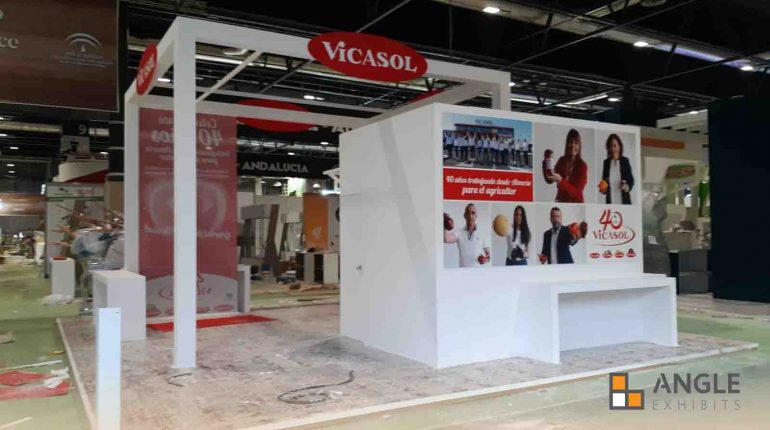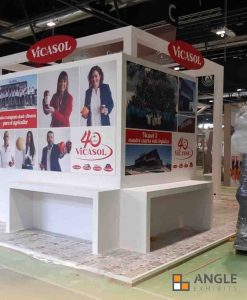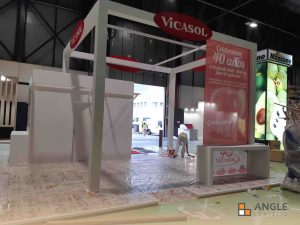 What does Angle Exhibits offer you?
Thanks to our experience in the sector of the design of stands we can carry out any type of order for difficult that seems for fairs, trade show, exhibitions, museums, congresses… We offer service to all the fairs celebrated in Spain and Europe.
To receive a personalised quotation, please contact us in the contact section without any kind of commitment.