We are working on the design and construction of retail for the brand DeWALT – STANLEY. To present their products in different hardware stores. Over the years of working with the company we have created various types of retail and custom furniture for this company.
Thanks to having this type of retail the potential clients will observe much more quickly the brand in the establishment where it is located. This way we manage to bring a greater number of potential customers. This will help to increase the company's sales.
On this occasion, as you will see in the following images you will be able to observe the quality of our work. We have developed a custom retail. Considering all the elements of retail to adapt to customer needs.
The structure of the retail has been developed with wood, cardboard and aluminium. Creating a temporary furniture of high quality and resistance. For the brand's advertising elements, vinyls, leds and personalized lighting are used. With the logo and colors of the company. In this way, it will be easily located by your customers inside the hardware store.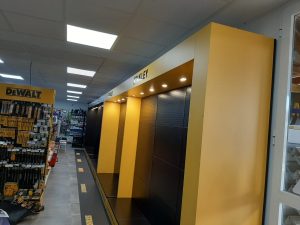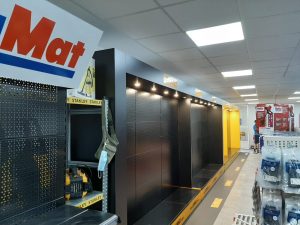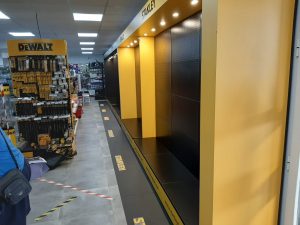 Design and construction of retail for businesses:
From Angle Exhibits we offer the service of design and construction of retail and custom furniture. For shops, restaurants, brands… Having an adequate and unique retail, manages to attract a greater number of customers. And it helps to obtain a higher loyalty rate.
We have a long experience in the sector of design and construction of retail. Also, in the manufacture of stands for fairs, congresses, marketing and advertising, presentations, samples… With the participation in numerous fairs. Such as FITUR, MWC, Smart City, SIAL, Saló del manga, CPhI Worldwide, Automechanika, Alimentaria & Hostelco… In cities such as Madrid, Valencia, Berlin, Barcelona, Paris, Lyon, Milan, Hannover, Munich, Zaragoza…
Contact us, without obligation, to obtain an estimate adapted to your needs. To follow our last assemblies visit our Instagram.
SEO positioning and web design developed by PosicionandoT.