Angle Exhibits is present at Anuga 2019, in Colonia, for the manufacture and assembly of various stands at the fair. For the companies Europastry and DEH.
Anuga in Colonia, Germany, is the largest food and beverage fair in the world and covers all market segments of the sector, is a biennial fair. This year it takes place from 5 to 9 October in Kolnmesse. It presents the most important innovations as well as current and future trends from around the world and is a meeting point for all decision-makers in the food industry.
For the assembly of the various stands, part of our team travelled to Kolnmesse to set up the stand. Previously, the stand was designed and manufactured in our facilities in Barcelona. Once again we have done the assembly of carpentry, electricity, signage, paint and everything necessary to deliver a stand as spectacular as this. Some of the elements will be reused from other events such as counters, spotlights, shelves and some other element.
To create the stands we have used various materials such as wood, DM, glass, methacrylate … To develop the stand you need and meet the needs of the customer, with shapes, colors, materials … That they are necessary.
What our company offers you:
Thanks to our unique and spectacular stands you will be able to attract as many potential customers as possible to your brand or company.
Once the Anuga edition is finished, we will dismantle the stand and bring the material back to our facilities. Material that cannot be reused will be recycled.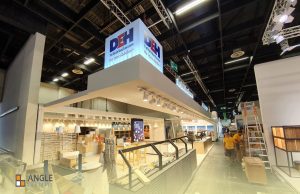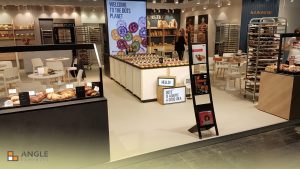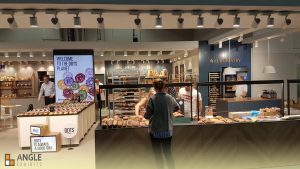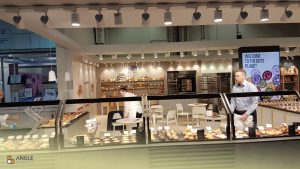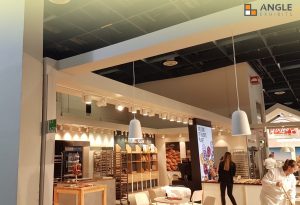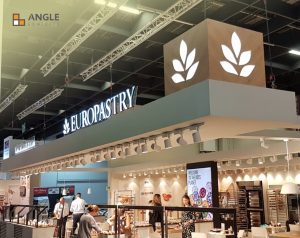 Thanks to our experience gained after years of work in the field of design, assembly and disassembly for fairs, trade shows, exhibitions, shows … We can offer a comprehensive and efficient service to our customers.
If you wish to contact our company, please go to the contact section of our website. And to see our latest work visit the projects section.